BK Super Specialty Hospital in Delhi is founded by Dr. BL Kapoor, who is an eminent Obstetrician as well as Gynecologist. The hospital comes in the List of Top ten Multi Super specialty Hospitals in Delhi NCR and is well known for offering comprehensive services for tertiary and quaternary care. BK Hospital is known for its one of the biggest standalone Private Hospitals of the region and spreads over 5 acres of land and has the capacity of more than 650 beds. It is also counted amongst the most comprehensive Cancer Centres too with having more than 100 beds in the Oncology Department. The institute is also the proud owner of India's largest Bone Marrow Transplant Centre and is recognized as an advanced healthcare institute with JCI, NABH and NABL accreditations. At  BLK Hospital Delhi expert team of doctors work to deliver the highest standard of healthcare. The main vision is to create a tertiary healthcare organization entirely focused on nonintrusive quality care.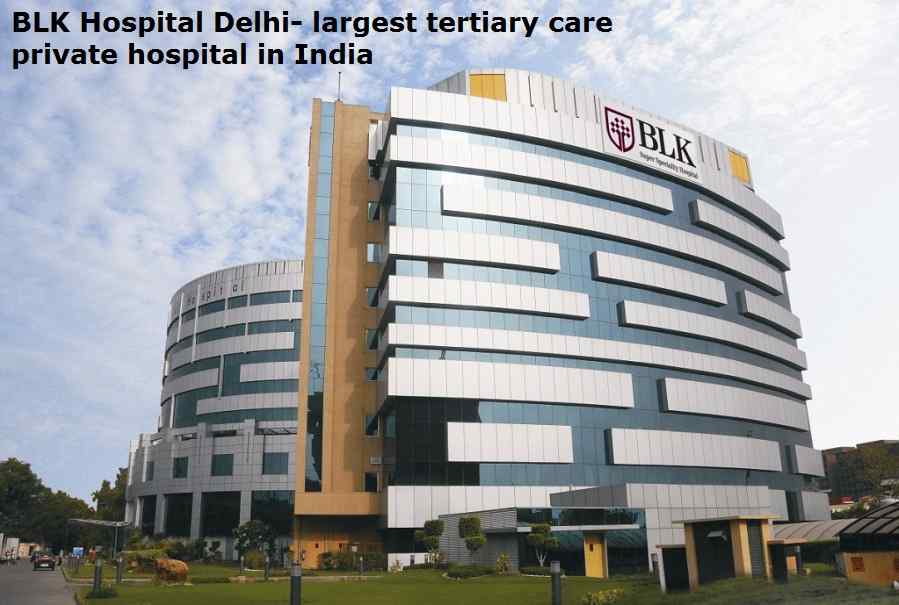 Infrastructure
BLK hospital Delhi has a unique blend of the best in class technology used by experts to guarantee superior world-class health care. It is considered as one of the largest tertiary care private hospitals in India and continuously ranked amongst the top ten multi super specialty hospitals in Delhi NCR.
BLK Hospital Departments
There are many departments to provide excellent facilities for patients. Some of these departments are-
Center for Critical Care
Heart Center
Cancer Center
Center for Neurosciences
Center for Digestive and Liver diseases
Center for Plastic and Cosmetic Surgery
Center for Renal Sciences and Kidney Transplant
Above listed are some of the medical services offered by BLK hospital Delhi. It also provides the most excellent Dentist, Ophthalmology, as well as Psychiatry treatment.
Services provided by BLK Hospital Delhi
Ambulance
Waiting lounge
Blood bank
ICU
The capacity of 650 beds
Reception
Pharmacy
Radiology
ATM
Cafeteria
Parking
Specialties at BLK Hospital Delhi
Anesthesiology
Arthroscopy & Sports Medicine Centre
Ayurveda
Bariatric and Advanced Laparoscopy Surgery
Dental & Maxillofacial Surgery
Dermatology
Emergency and Acute Care Medicine
Endocrinology Surgery
ENT & Cochlear Implant
External counter Pulsation
General and Minimal Access Surgery
Gynaecology & Obstetrics
Hepato Pancreato Biliary Surgery
Internal Medicine
Interventional Radiology
IVF infertility treatment
Liver transplantation
Nuclear medicine
Nutrition and health
Ophthalmology
Pain management
Pathology
Physiotherapy & Rehabilitation
Surgical Gastroenterology
List of some of the top doctors of BLK Hospital Delhi
BLK hospital comprises an expert team of doctors along with other staff, and together, they all work to treat many patients and to heal them successfully. It is the team effort that makes BLK hospital one of the best of all in India. Since its inauguration, it served numerous patients in and outside India and is considered as the best hospital for cancer treatment. Below we have listed some of the top doctors at BLK Hospital Delhi
Dr. Ajay Kaul – Chairman and has 36 years of experience
Dr. Ajay Kaul is well known and one of the fines surgeons for coronary bypass surgery in India and has performed more than 10000 Cardiac Surgeries, 4000 Total arterial Coronary Bypass Surgeries. He is considered as a versatile surgeon whose surgical skills comprises total Arterial coronary bypass surgery, Valve repairs, Surgery for aneurysm, Paediatric Cardiac Surgery, and Surgery for cardiac failure. He is most talented and trained for heart transplants and verticular assist devices.
Dr. Rakesh Mahajan – Orthopaedic and Joint Replacement Surgeon and has 18 years of experience
Dr. Rakesh Mahajan is currently associated as a senior consultant in BLK Hospital Delhi for Orthopaedics, Spine Surgery, and joint reconstruction. He specializes in knee replacement surgeries, Arthroplasty as well as Sports medicine. He has been awarded with the Amar Jyoti Award along with the Bharat Gaurav award.
Dr. W.V.B.S Ramalingam – ENT Surgeon and has 35 years of experience
He is working as a senior consultant as well as Director in ENT & Cochlear Implant Department at BLK Hospital currently. He expertise in Head and Neck surgery, Phono or Voice surgery, and Endoscopic Surgery.
Dr. S. Hukku – Radiation Oncologist and has 35 years of experience
Dr. S. Hukku is a well known and one of the most renowned oncologists in India and also a  known member of the American Society for Radiation ASTRO and European Society for Radiotherapy and Oncology ESTRO. He expertise in Head and Neck Cancer, Brain Tumours, Image-Guided Radiotherapy (IGRT), and Breast Cancer.