People love to visit India because of its cultural heritage and the prevalent practices that define this country of diversity. However, in the past few years, India has seen the growth of another kind of tourism, which has been attracting a lot of people to this country – medical tourism. Now, what is medical tourism?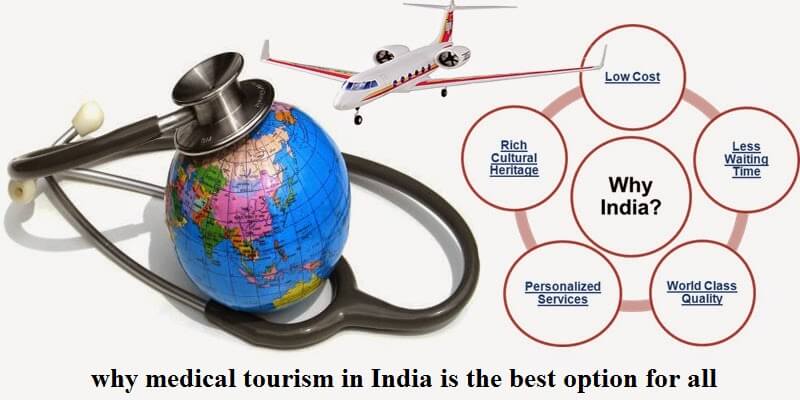 Well, medical tourism, as the name makes it evident, is a form of travel that one undertakes in order to avail medical services. In short medical tourism is undertaken when one travels to a particular place to avail the medical benefits of that place and improve their health condition. India has recently become one of the favoured hubs of medical tourism due to a number of reasons. If you have been struggling with a particular kind of ailment to which you are looking for a solid cure, you can definitely consider undertaking a tour to India. A huge influx of people, mostly from the USA and other European nations has been observed in India that comes to the country to receive treatment. Why? Well, here are some of the reasons which make medical tourism to India one of the most preferred and good choices:
The cost factor: One of the primary reasons why people come to India for medical tourism is the cost. It is extremely cost effective. You can actually save a lot of money by getting medical treatment here. When it comes to travelling to India, even that is not a big issue, because compared to other countries, India is quite cheap in terms of travelling as well which makes it easier for people to travel both to and within the country, which is sometimes essential for medical tourism. The medical expenses here are also will not put a strain on your pocket, which makes it all over an affordable affair.
Another very good thing about medical tourism in India is that you when you avail treatment from here, you will be under some of the best doctors in the world. India is known for its advancement in healthcare practices and hence you will have some of the sharpest minds and deft hands working for you in order to make sure that you get well soon and you receive a sound treatment. It is very important that you be patched through to the right doctor and hence when you do choose from a list of medical tourism companies in India, make sure that you go with good and reputed one.
There is another major benefit when it comes to getting treated in India. Over her the medical scene being quite accommodative, you will actually not have to wait much to get an appointment and get your treatment started. All in all this process actually helps in saving a lot of time. When you sign up with the right medical tourism company, you will be able to easily access all the hospitals and get treated at the place you think would be the best for you.
Another factor which draws a lot of people to this country for medical tourism is the state of the art hospitals. Yes, it is cost effective but that does not mean that you won't get to enjoy amenities. In fact, you will be able to avail a lot of amenities and advantages when it comes to this country and that too at highly competitive rates which will be beneficial for you. Good hospitals with nice treatment facilities will ensure that you get all-round medical care for your betterment.
There is another factor that a lot of people tend to overlook and that is what happens after the treatment? Every treatment plan, be a surgery or even chemo therapy, requires a post-treatment plan for the patient to get well soon and get well faster. Thus, it is important to assess how good a post-treatment plan you will be able to avail. Most of the medical tourism companies will arrange for a nice and well provided for post treatment plan for its patients who will ensure that not only do you get the treatment that you need but the post treatment care as well. When needed follow-up communications are also arranged for the patients.
Not just hospitals but hospitality is also a major factor when it comes to receiving treatment. We know that two kind words and a warm smile can go a long way in making someone feel better, both mentally as well as physically. This is something which truly sets India apart from the rest of the world. India is known for its hospitality. There is general warmth in the culture of the country which is actually beneficial for people who do come for medical tourism in India. One gets treated to good medical care as well as good behaviour and the appropriate amount of attention. This actually helps in providing one with an all-around treatment.
Thus, medical tourism in India is something which is developing and it is providing benefits to all those who come here to get treated. If you have been struggling with an ailment, this is actually a country that you can go to for good treatment.