The chicken today can rightly bear the name of the queen of the table. They cook chachochbili, walnut sauce, cutlets of the chicken fillet, marinated and smoked, stuffed and baked. Chicken often becomes the basis for soups and mashed potatoes. And gourmets cook it even with fruits and nuts, for example, making smoked ham with pineapples.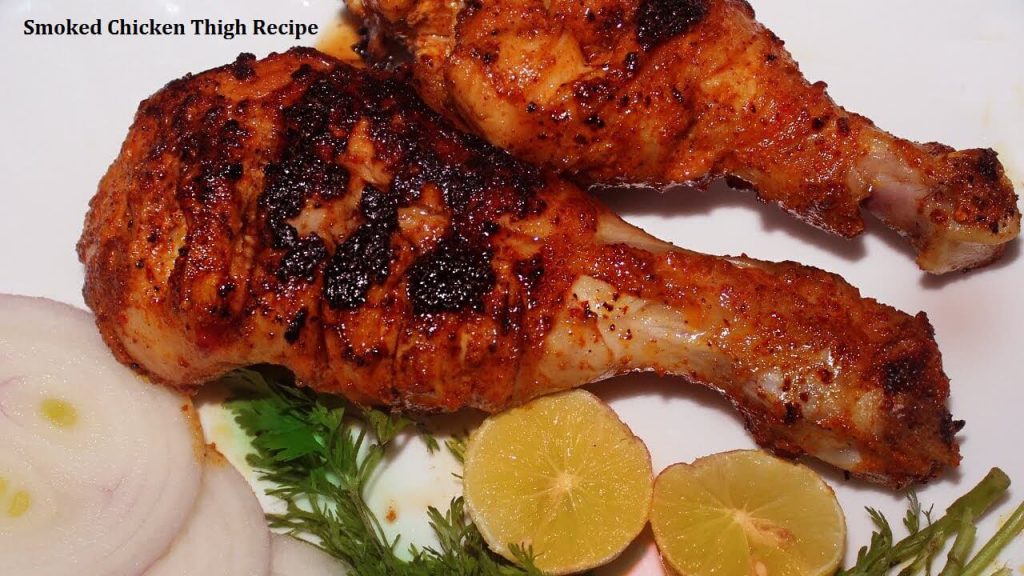 Smoked Chicken Thigh Recipe 
Ingredients:
Chicken thighs – 2 kg,
Salt – 60 g,
Sugar – 8 g,
Ground cinnamon – 1 teaspoon,
Ground nutmeg – ½ teaspoon,
Chips for smoking,
Gauze.
Juniper berries – 60 pcs,
Garlic – 1 bulb.
Ingredients for brine:
Water – 2 l,
Salt – 60 g,
Bay leaf, cloves, bayberry to taste.
Marinating and brine of chicken thighs for smoking
Before marinating chicken thighs, you need to wash and dry them with napkins. Make an ocean first: boil 2 liters of water, add salt, pepper, cloves, bay leaf. Boil for 2-3 minutes and cool off. Mix salt, sugar, cinnamon, and nutmeg and wipe the chicken thighs well on all sides. When placed in a dish for pickling, pour the legs with juniper berries, pour in brine, put a small yoke and put into the refrigerator for two days. When marinating sometimes turn the chicken thighs, the ocean must completely cover them.
Also Read: Top 10 Healthier Foods
Preparation of chicken thighs for smoking
After marinating the thighs, rinse under running water thoroughly, taste it, if there is a lot of salt, then soak for an hour in cold water. Before smoking, be sure to dry the products: wipe thoroughly with a towel or napkins, place in an oven with convection for 2-3 hours at a temperature of 86 degrees, while leaving the oven light open. After drying from the side of the skin, make longitudinal cuts, lard slices of garlic, then the wrap thighs in several layers of gauze each.
Smoking of chicken thighs
For smoking, I used apple and cherry chips in the ratio of 50 to 50. Before smoking in the real smokehouse, foil the products. When burning, the temperature should be raised gradually to 212 degrees, in this mode, smoke for 20-25 minutes, then open the smokehouse, remove the foil and dry the chicken legs for 10-15 minutes, foil again, close the smokehouse and smoke at 194 degrees for 35-40 minutes. After smoking, open the smokehouse again and dry the chicken drum for 10-15 minutes. Before serving, let the smoked meat rest for 1-2 hours.
Ready chicken thighs are very juicy, have a rich aroma of spices and garlic, great as a main dish, as a snack for beer. I also recommend you to take note of the recipe for cold-smoked chicken thighs.
Also Read: What kind of food is contraindicated for Women?
In the first place, you need to wash and marinate the chicken thighs. For this, sprinkle the chicken plentifully with salt, ground pepper, and other seasonings. This fragrant mixture should tightly cover the entire surface of the meat. Then the pieces of chicken are placed in a pan under a press. As a press, use a smaller lid with a load on top can be used. This container is sent to the fridge for 5-6 days so that the meat has thoroughly marinated.
On the eve of the day of cooking, the thighs are taken out of the pan, strung on an active thread and hung to dry in a warm room. Under them is something to lay, because the marinade will slowly drain abundantly.
When the chicken thighs are dry, place the thread with themes set in the smokehouse for 12 hours. For fragrant smoke is well-suited sawdust from fruit trees. After 12 hours, the thighs should get an appetizing brown shade and a unique smoked smell.
Chicken thighs in mineral water
It will take about an hour to prepare, a smokehouse or a pot with thick walls. The method itself is quite simple and does not require a considerable amount of effort. Thus, one can cook the most delicious meat not in nature only, but also at home. The recipe is pretty simple. So, you are going to need: chicken thighs – 10 pcs., mayonnaise – 400 g.; mineral water – 1.5 l .; salt; pepper; wood chips. Pickle chicken thighs just before the process of smokings. It takes quite a bit of time. Soak the meat even in a plastic bag. All ingredients are thoroughly mixed and placed in the fridge for half an hour.
When done with the pickling for half an hour, you can begin to smoke chicken thighs. At the bottom of the smokehouse, it is necessary to lay out chips for smoking; an individual baking sheet is above it for collecting fat. In its turn, there is a grill above it, with the meat on it. Chicken thighs should not be stacked tightly together, because the smoke should cover them from all sides. For best results, wrap the legs with a lid. When the smoke starts to break out from under it, you need to note down 20 minutes. The time may vary depending on the intended effect. As the best option, copy 20 minutes, this is quite enough for cooking meat. Make a cut to check for readiness. If at the same time there is a clear juice, then you can remove the thighs. As a result, chicken thighs are delicious and juicy. When smoking, it is essential to pay attention to the number of wood chips, so that in the end the meat does not get a bitter taste. Also, do not be zealous and with the time of preparation, if the chicken thighs are overexposed, they will become too dry. Therefore, if this is the first smoking experience, then it should be limited to 20 minutes.
Melisa Marzett is a talented writer who has been successfully working at online assignment rewriting service for several years.  She is always at your service and ready to assist you with well-researched articles.