Hair can reflect a lot about your health. Falling of 50 to 100 strands daily is considered normal; beyond this number indicates that there is something not right. Similarly, some abnormality in the hair growth pattern or appearance can also indicate the same. We tend to get distressed about our abnormal hair, ignoring the real problem. Hence, this article discusses a few underlying health conditions that could be responsible for such abnormality in hair.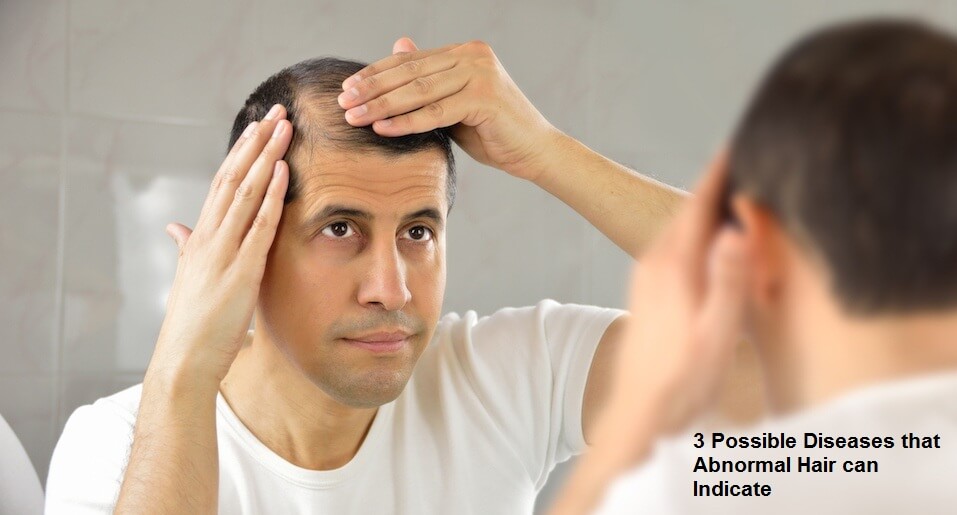 Alopecia areata
If hair falls out in small patches which may go unnoticeable until these patches get connected and become remarkably bigger, then this could be due to a disease called Alopecia Areata. This happens when the immune system of the body attacks the follicles of the hair causing to fall. Hair can fall from scalp, eyelashes, eyebrows or other parts of the body as well. It may develop slowly and re-occur in a few years. There is no cure for this disease at present, but with the help of some treatments, hair can be grown back and can be prevented from falling again in the future. Your doctor will prescribe medicines to support your condition that can be purchased from the online pharmacy as well.
2.Thyroid dysfunction
Thyroid gland found in the neck is responsible to produce hormones that regulate how the energy will be used in the human body. The underactive or overactive gland can hamper with the normal functioning and can cause many symptoms that may initially go unnoticeable and hair loss can be one of them. If thyroid malfunction goes untreated for a long time it may result in chronic autoimmune lymphocytic thyroiditis, also called Hashimoto's disease. The thyroid is more prominent in women, so if you are facing excessive hair loss, you may consider getting your thyroid test done and if you are already on medication, never miss on your doses. These medicines are to be taken for a lifetime, so once your dose gets set, you should stock them up before they get finished.  You can even buy medicines online with discount by uploading your prescription and these medicines would be delivered to your doorstep.
Bamboo Hair
Bamboo hair, also called trichorrhexis invaginata, is a feature of Netherton Syndrome – a condition that is caused due to mutation of a gene leading to the abnormal growth process. In Bamboo hair, the hair strands look similar to a knot in a bamboo stalk, unlike a normal healthy strand that appears smooth under a microscope. Not just the scalp is affected, but it can cause bamboo hair to appear in eyelashes and eyebrows as well. Treatments of the disease are symptomatic and can range from Emollients and keratolytic, antibiotics, antihistamines to topical steroids. You can get prescription drugs online from the best pharma online at the convenience of your home if you order them from any of the online medical stores.
Abnormal hair is not something to be taken lightly, it could be indicative of many serious health problems. You must get in touch with a medical expert as soon as you realize your hair does not grow normally for a remarkable period of time and get treated for the disease-causing the actual problem.