When the sebaceous glands that are present underneath the skin produce an excess of sebum then due to its excessive accumulation under the skin leads to acne formation.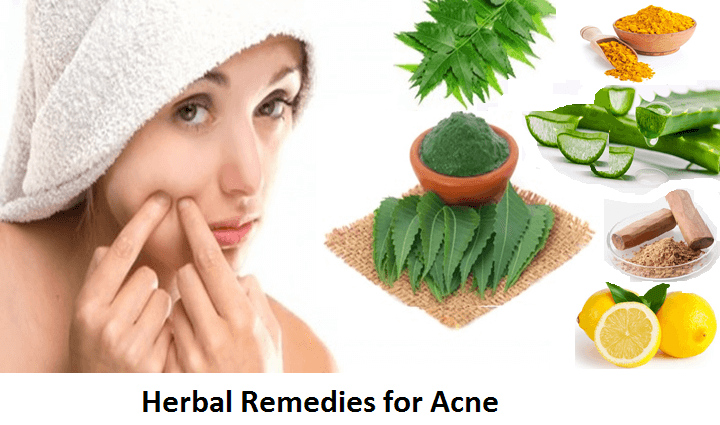 Try this simple and effective herbal remedy for acne.
Rose Water for Acne
It is an ancient remedy that helps cure acne. You can easily prepare rose water at home with rose petals and save your skin from acne production.
Also Read: Herbal Remedies for Skin Allergy
Neem
The best herbal solution for acne is neem. Even the bark and the leaves of the neem tree is rich in anti-fungal, anti-bacterial and antiviral properties which can help in healing the infection of the skin and heal acne. Prepare a mask by making a thin paste of neem leaves and mixing it with lemon juice. Create a mask with it and apply all over the clean face. Your acne will visibly vanish in a few days.
Tulsi
 Also known as holy basil, this can bless your skin with the goodness of herbs and remove your acne. You need to chew off a few handfuls of freshly plucked leaves so that it can help in clearing your blood and by helping you get rid of your acne. You can also prepare a magical herbal pack by mixing 3 tablespoons of basil leaves with lukewarm water. You need to apply this for 10 minutes daily so that the acne disappears from the roots.
Female Ginseng
It is a Chinese herb that is considered as the best remedy for treating the problem of acne as it slows down and controls the excessive secretion of androgen. The ingredients present in it are similar to those present in estrogen and it limits the oil production which further helps get relief from the production of acne.
Garlic
It has disinfectant, anti-inflammatory and anti-bacterial properties that make garlic an effective and powerful herbal solution to treat acne. Just take pod of raw garlic and rub it over your skin and acne for 5 to 6 times in a day which will give relief from the inflammation and fasten the healing process.
Aloe Vera
It will hydrate your skin and lighten your complexion as it is packed with the goodness anti-bacterial properties. Take it directly from the leaf of the aloe vera plant and it will provide relief from the irritated skin instantly.
Red Clover
Clear out the impurities of the skin and cleanse your blood with the natural detoxification power of red clover. Make sure that you consume red clover daily in order to clear your skin from within and help your facial skin rejuvenate.
A few recipes that will act as a herbal remedy for acne
Sweet Potato Juice
Take 4 carrots
2 sweet potatoes
½ inch ginger
Method:
Blend all the things in the grinder
Add water as per the requirement
Serve it chilled
Cucumber Juice
1 small apple
1 to 2 cucumbers
Method:
Nicely mix up all the ingredients in 1 jar
Add water as per your requirement
Serve it chilled
Detox Water
With this clean the blood and with the vitamin and mineral content treat your acne. If you regularly consume this detox water then it will bring a natural glow on your face.
It is better if you consume this early morning every day
Take freshly squeezed lemon juice
1 tablespoon apple cider vinegar
1 tablespoon matcha powder
A few fresh mint leaves
3 cups of coconut powder
Mix all the healthy ingredients and leave it untouched overnight.
Herbal remedies work best for your skin, all you need is a little patience and your skin a little time to heal.